Welcome to Ridge Pointe!
It is our hope today that you will sense our love and devotion for God, our love of great worship music to God, and our love of the timeless and powerful Word of God. Have a blessed day as you worship with us!

Memory Verse
"Therefore, brethren, stand fast and hold the traditions which you were taught, whether by word or our epistle" (2 Thess 2:15).

Life Lessons
Regarding 2 Thess. 2:15, Dr. Tony Evans writes, "This is Paul's theme: Stand firm. You are to be like a member of the Queen's Guard in England—no matter what happens around you, you stand firm. While everybody else is waffling and buying into different worldviews, you hold onto the truth of Scripture. Too
many are fast-food Christians or spiritual hitchhikers, desiring convenience and a free ride. But, the Christian life is based on long-term perseverance. If you only follow Christ when he gives you good things, and not when you struggle, then you're not following Christ at all. Paul told the Thessalonians to hold to the traditions taught by apostolic authority, by the Word of God."

Happy Birthday
No birthdays this week.

Ladies Bible Study
The Bible Study is held in the JOY classroom at 10:30 AM on Wednesday. See Marilyn Kottemann for details.

Monthly Luncheon
Join us after the worship service for our monthly luncheon.
Operation Christmas Child
Operation Christmas Child also known as shoebox Sunday will be held on November 19, 2023. Boxes will be available soon. The list of suggested gifts and the age breakdown will be located on the table outside the church office.
2023 Giving Totals
Weekly Budget Amount $3,800.00
Amount Given Last Week $3,069.00
Year to Date Budget $144,400.00
Year to Date Giving $112,601.85
Missions Project $1,315.00
Online RPF Prayer Meeting and Bible Study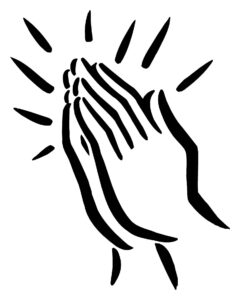 Wednesday @7:00PM
We hope you will join us ONLINE and enjoy our time of fellowship, prayer and a short devotion from God's Word. If you're new to using the app "GoToMeeting," get it to be ready when our meeting starts. Go here: http://global.gotomeeting.com/install/454076013. Then, to join our Prayer Meeting @ 7PM on Wednesday night from your computer, tablet or smartphone, go here
https://www.gotomeet.me/RidgePointeFellowship. You can also dial in using a landline or cell phone:
Dial: 1(646)749-3122
Then enter Access Code: 454-076-013

Ways to Give in 2023
First, you may donate to God's kingdom work ONLINE by going to the website at ridgepointefellowship.com and clicking on the menu item at the top right listed as: "Give".
Simply fill out the form provided, and the rest is easy. You can also access this form by texting "Give" to 972-656-0445.
Another way to give is by using the app ZELLE. Simply enter the email: ridge.pointe.church@gmail.com to give.
Finally, as always, if you are attending in person you may give by cash or check DIRECTLY in the offering boxes located just outside the sanctuary. One is in the back foyer, the other is just outside the entry door of the sanctuary. Thanks always for your generosity to God's kingdom work!